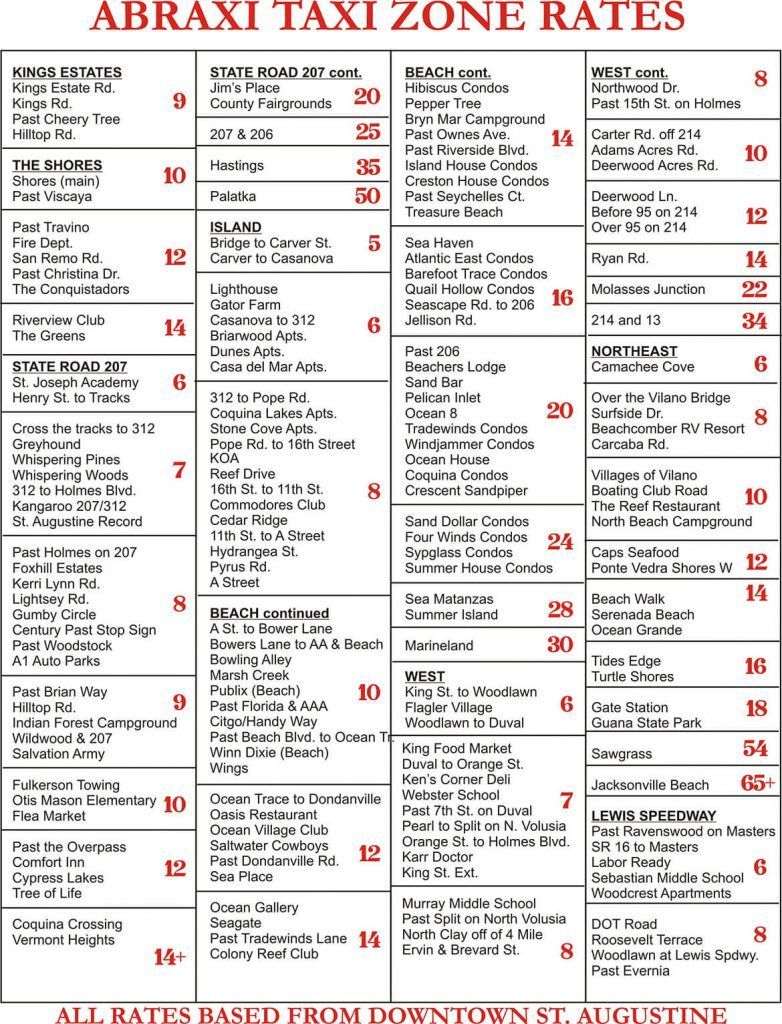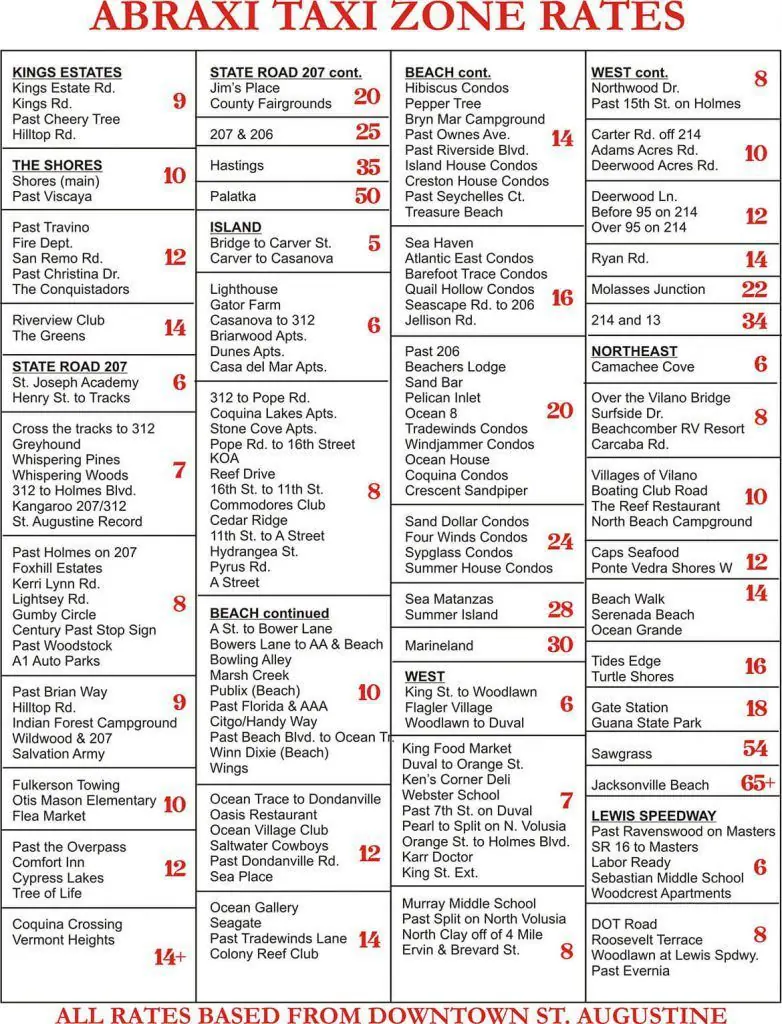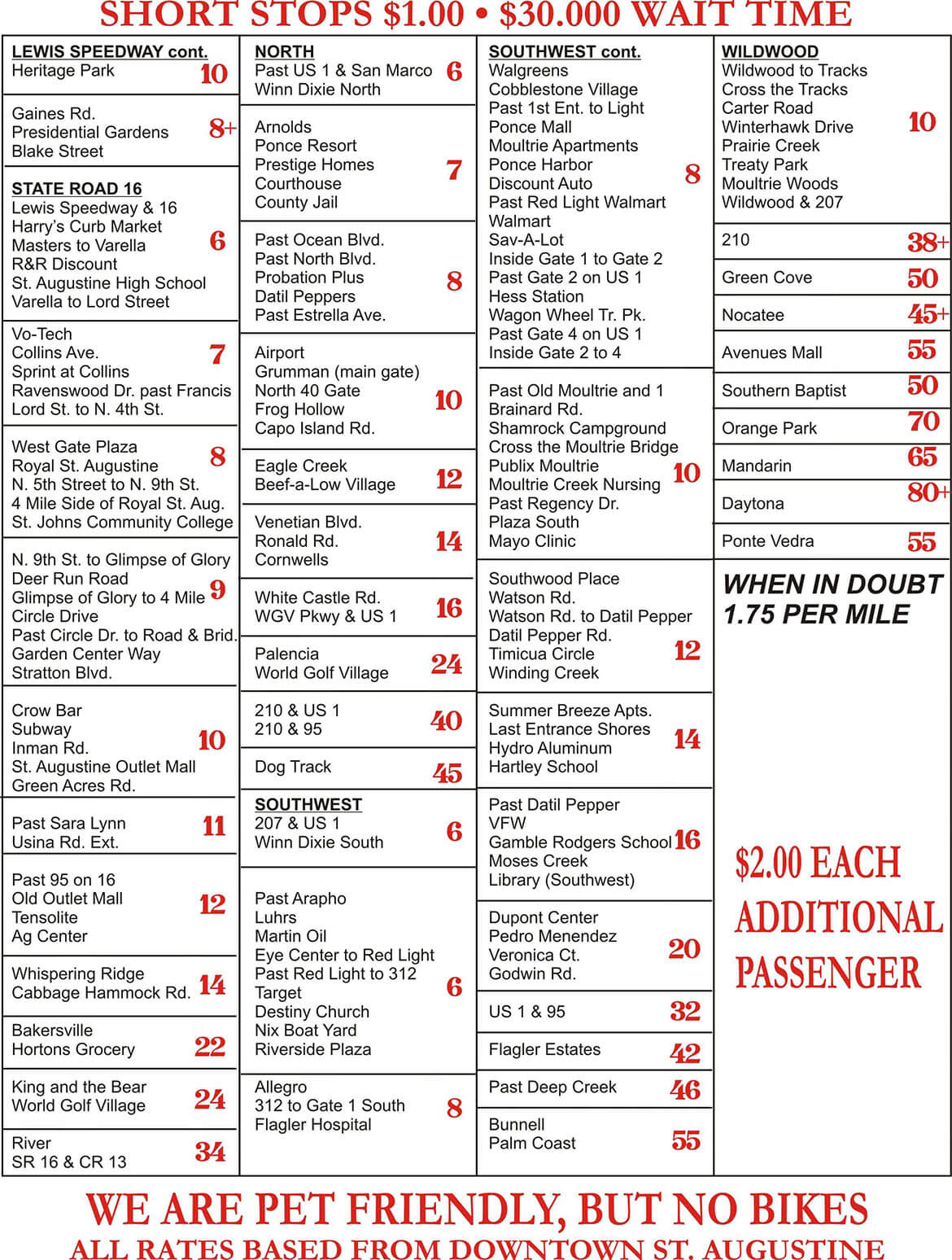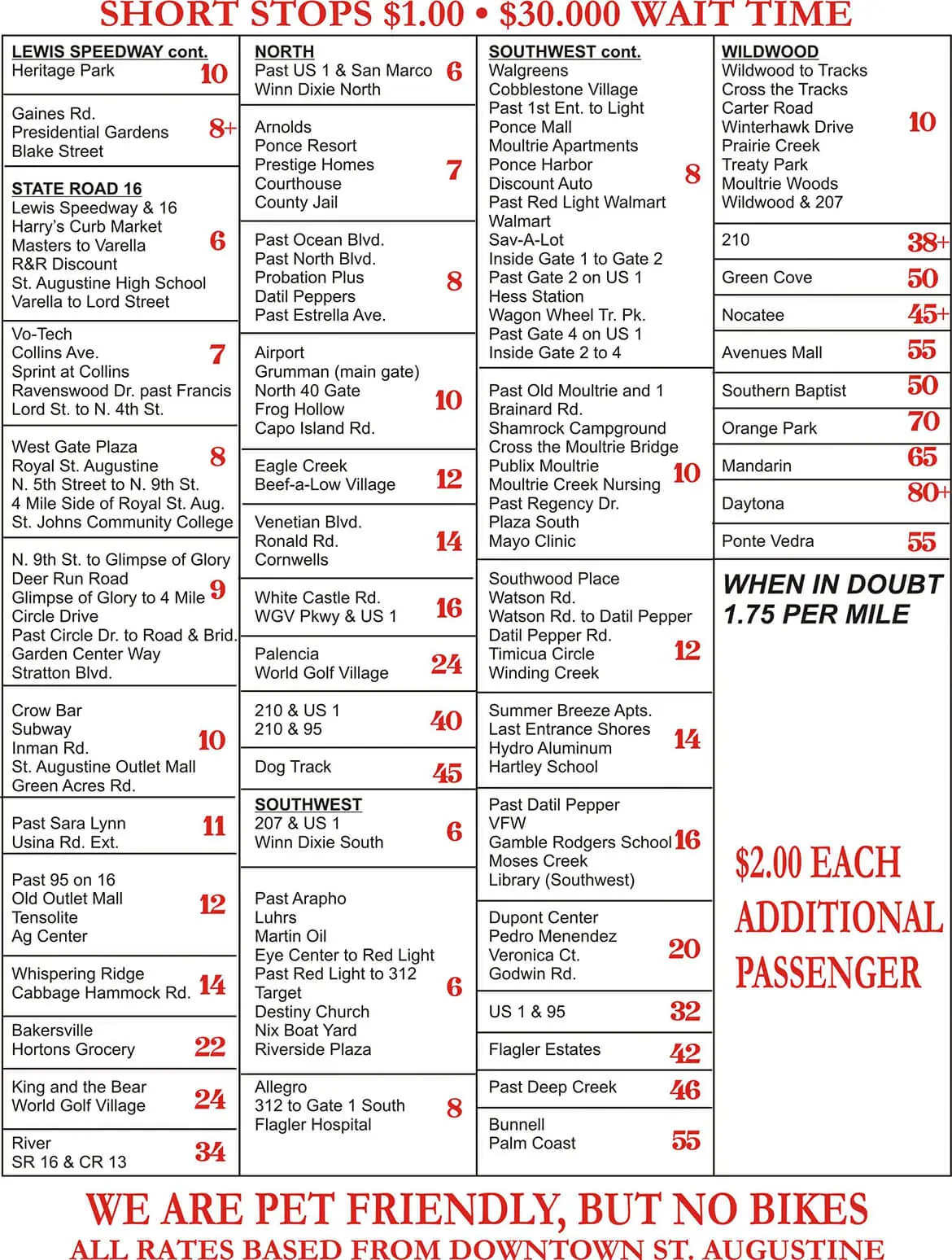 How to order a cab the old-fashioned way.
Unfortunately to use a traditional taxi company you will need to call us at 904 599 6666.You can visit our web site at www.abraxitaxi.com or www.abraxitaxi.org for some useful information if you would like. When calling the dispatcher please be fast and brief. We need to know where you are at, where you are going and the number of people that require transporting. We are a zone rate company so do not hesitate to ask the price. If you do not think that it is fair, or another company might be cheaper: please do not argue and call the company you prefer. Our pricing remains the same always. We do not generally raise our pricing during surge times. You will pay the same price you forked over on your way to downtown Saint Augustine, as you will on the way back home to Crescent Beach for example.
We need your location if it is a business: the name of the business should be fine if a house a physical address is required. If you have a large group, we would rather send you a van as to make your trip more comfortable. The destination is helpful, so we can provide service to more customers in a timely fashion.
Sometimes the dispatchers are very busy and need to get as much information from you in a small amount of time, we are not trying to be rude but more efficient. We prefer that you call us from your personal phone so if anything, chaotic happens we can alert you to the situation or be able to find you at peak times like last call when the clubs close. Also, when you are far away our drivers may give a shout out to make sure this is a serious enquiry and not a prank. Sometimes we will need to be prepaid before picking up in certain areas in Saint John's County Florida. We no longer can pick up passengers at Jacksonville International Airport but can drop customers off. If you call us we will be happy to give you some other options for getting from this airport to Saint Augustine Florida. There are several Jacksonville taxis available immediately outside the terminal exit.
If you choose to prebook or set up a specific time for a taxi to arrive, please be ready at that time. We generally like a heads up for airport transportation and many locals prefer calling us the night before for their cab ride to work the next day. We are a no-nonsense, no smoking, fair and honest taxi cab company. We will treat you with courtesy and respect and expect you to reciprocate this to your professional driver. Once you become a regular rider and have some patience when busy; you will always get an Abraxi Taxi.
To be honest we do strive to be the best but unfortunately there are so many things out of our control, traffic is certainly one and the Bridge of Lions is another. On rare occasions cars can have flats or other mechanical issues. Point being; allow yourself plenty of time especially if going to work, and when you are ready to go home give us a call and we will dispatch a cab for your return trip.
We do accept credit cards. There is a 10.00 minimum processing fee. If you would rather stop at an ATM we are fine with that. We do charge 1.00 per stop and .50 a minute wait time. Sometimes it may save you some money to keep a 20.00 bill in your wallet. This will get you a long way or even back and forth to work with change to spare. We encourage tipping!
Abraxi Taxi prefer that you call us from your personal cell phone and you remain at your location. People who move we call Easter Eggs and no driver likes to hunt for fares walking along dark roads or hiding in the bushes. Find a well-lit, safe spot and we will do our best to find you. AND at times will even call to let you know we are ready to transport. So please answer your phone! However; it is your responsibility to be ready for the cab we assigned you…