Timely Cab Service
Always arrive on time with our taxi cab service. We are committed to providing quality customer service to ensure a timely pick-up and drop-off. Since we maintain good relations with local competition, if we are unable to take you, we'll get another cab company to do so on our behalf. Contact us when you need transportation to: local shows and attractions, sightseeing tours, restaurants, sporting events, fine dining, concerts, night clubs and local tours.
Our Company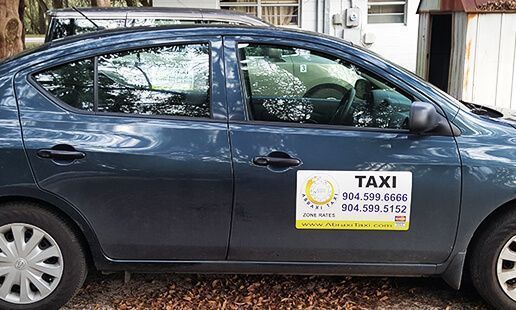 Our cab service was founded by Steven Ciccantelli in 2008. At that time, many local workers were having trouble getting a taxi service or getting to work on time. Meeting this need was the reason he started this business. Steven enjoys having fun with his customers and maintaining a friendly rapport. With superb local knowledge, Abraxi Taxi drivers can give you recommendations on places to go and things to do in St.Augustine.
Airport Shuttle Service
Abraxi Taxi operate an airport shuttle service to seven airports surrounding St.Augustine, Florida. Get to your departure gate on time and for fixed rates, so you know what you are paying in advance. Visiting St. Augustine? We can pick you up from the airport and shuttle you straight to your destination. Additional charges may apply in some circumstances. Call us for details.
Saint Augustine taxi cabs
Sometimes it gets very busy.We are not really a brick mortar company as our cars generally are on the move. If phone line is busy give us some time and call back, if we still cannot get you in a timely fashion here are some other cab company options.
Our company does accept credit cards but we have a 10.00 minimum policy.
Abraxi Taxi 599 6666
Abraxi Taxi offers airport service to all major airports.We are open 24 hours and have a flat rate of 85.00 to both Jacksonville and Daytona Airports. We also utilize taxicab vans during the night time shifts. At this time, we do not have any handicapped accessible vehicles.
Ace/Yellow/Ancient City 824 6888 same company
This is the largest company with the most reasonable rates.
Eco Rides 827 7206 or 377 7088
Very fuel efficient and might have a van.
Green Taxi 808 9995
Again name says it all, Eco friendly but a viable option on a very busy night.
First Coast 825 9999
Great option during the day or on concert nights.
Affordable 460 4363
Another company that has vans available for large groups.
Happy Client's
Testimonials
What find! This is the place to call for custom travel in the St. A., J'ville, Orlando area. Reasonable prices, reliable & prompt. Our driver was a former chef and gave us some good restaurant tips as well. we'll definitely use Abraxi-Taxi next time we go.
Amazing Service!! I've been riding with them since I first arrived in St Augustine, and I have to say they are the best company around! Great customer service, knowledgeable drivers, and low rates!
Took us to a concert and promised to pick up us.To our surprise he did.Nice clean car,proffessional and courtesious,yet,my wife thought he drove rather fast.
I've been using Abraxi Taxi ever since I moved here. Their vans are clean, the drivers are hospitable, and they definitely know their city. I definitely recommend them to anybody who's planning on visiting St Augustine.
We always loved Steve good for him seems he has the were-withal and the moxy we wish him the best and tho we like Checker Cab we now love Abraxi.
Scooped my drunk……. up got me home.
Untold St. Augustine History